hawx is always reliable. always innovative.
Cockroaches can spread illnesses and cause sensitivity reactions in people with allergies and asthma. Fortunately, cockroach pest control treatments can effectively address infestations and protect you and your family. Read on to learn how pest control for cockroaches works.
Get help with your roach problems by calling the roach control pros at Hawx Pest Control! Dial (888) 372-9514 today.
How does cockroach treatment work?
Cockroach pest control treatments involve products that kill the pests in every stage of life. To be effective, cockroach extermination must target the places where cockroaches are living as well as the entry points they use to get in and out of your home.
What is the best pest control method for cockroaches?
At Hawx, treatment begins with a thorough inspection. Our technicians identify the species of cockroach present in your home and locate the places where the pests may be getting inside. Entry points can include cracks and gaps in a home's structure or around windows and doors.
After identifying entry points, Hawx technicians use liquid products to treat the home's exterior, applying it to the places where cockroaches may enter. Dust-based products may also be used in hard-to-reach areas. 
For Oriental and American cockroach pest control, this standard treatment protocol is usually effective at addressing infestations. German cockroach pest control typically requires a more intensive treatment protocol because the species is incredibly invasive. 
Our German cockroach elimination protocol involves applying a dust treatment to the places where the pests live and an insect growth regulator that prevents females from laying eggs. In addition, our technicians will put out bait that eliminates any cockroaches in the vicinity.
How long after pest control do cockroaches die?
The length of time it takes for cockroach fumigation to eliminate the pests varies depending on the nature of the problem. At first, there may appear to be more cockroaches in your home because the treatments drive them from their usual hiding places. After a couple of weeks, you should notice a reduction in the number of cockroaches. Our pest control technicians may recommend follow-up or maintenance treatments for severe infestations.
How much does professional cockroach treatment cost?
The cost of professional cockroach treatment varies depending on the size of your home and your lot, the cockroach species, and the severity of the infestation.
Signs you need professional cockroach control services
Some signs that you may benefit from professional cockroach elimination services include:
Cockroach droppings, which can resemble grains of black pepper, blackish-brown grains of rice, or coffee grounds
Blackish-brown smears caused by cockroaches dragging or moving through feces
An unexplained musty odor, which arises due to pheromones that emanate from cockroach feces and carcasses
Empty pods called ootheca that are left behind when the cockroach eggs hatch
Casings from cockroach bodies, shed as cockroaches molt.
If you notice any of these warning signs of a cockroach infestation, contact a professional pest control company like Hawx.
Can Hawx Pest Control help me get rid of cockroaches?
Read more about cockroaches
If you're a resident of Raleigh, you've got so much to be grateful for. This gorgeous city is just a hop, skip, and a jump
Have you found yourself in a constant battle against pesky household pests?  As homeowners, it's our responsibility to keep our homes free from these unwanted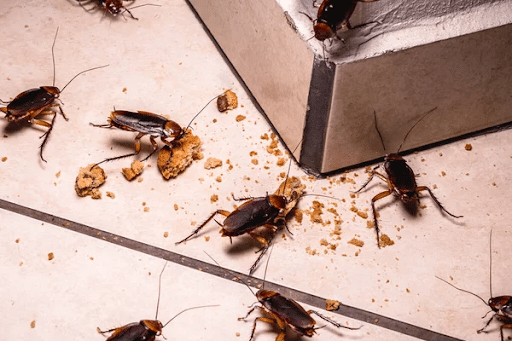 Cockroaches are a common household pest that can be found in almost every part of the world.  They are notorious for being some of the