Customized, fast commercial pest services
Many types of pests, from rodents to cockroaches, can be found infesting daycare centers, even if you are very careful about keeping your facility spotless. Even the cleanest daycares contain the food, water, cluttered play areas, and hiding places that provide what these critters need to survive. With children and infants playing on the floor and eating on or around where pests thrive, addressing these issues is all the more important. Read on to learn how to keep your daycare center safe from pest infestations.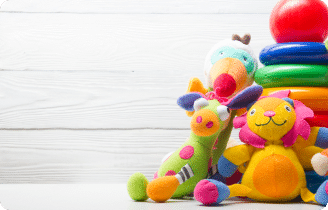 How to deal with pest infestations in your daycare center
As a daycare center director or owner, you're responsible for all aspects of your facility, ensuring it's safe, well-maintained, and clean according to state or local regulations. Seeing insects, rodents, and other pests in a daycare center is not only disturbing for children and their parents, but they're also capable of spreading disease and biting.
The professionals at Hawx Pest Control are experts at addressing all manner of pest infestations. We customize our treatment plans to meet the specific needs of your facility, especially for daycare centers where the health and well-being of children and their caregivers are top priority. 
What attracts pests to daycare centers?
Pests of all kinds enter structures looking for food, water, and shelter to survive. Daycare centers have all of these ingredients and more within their walls. Here's how to deal with them:
Most childcare centers have a kitchen where food is prepared, served, and stored. Even tiny spills or crumbs left on floors, tables, and chairs can be magnets for pests. In addition, toys that aren't cleaned daily may have food residue from children's hands, attracting pests to playthings. Cleaning meticulously will help prevent pests from coming in in search for food. In addition, if you keep pets at your daycare center as part of an educational program, the food and water left in their bowls can attract pests into your facility. 
Clutter, such as cardboard boxes, stacks of paper, or overloaded closets, is also attractive to critters who feed on these items or use them for shelters. Dispose of unused boxes and try to minimize clutter where rodents or cockroaches could linger and nest.
Garbage bins that aren't tightly sealed and are located just outside a daycare center can attract pests. Critters can enter the building through cracks, gaps, and open doors or windows. And we hate to say it, but those diaper pails will certainly attract flies if not emptied frequently and cleaned regularly.
Leaky pipes in kitchens and bathrooms bring in pests like cockroaches and rodents that love a place with easy access to water. Watch for any holes in window or door screens that make an easy entry for flying insects. Repair gaps in door or window frames, siding, or foundation where pests can enter.
A daycare center is busy, with people coming and going throughout the day. Parents, delivery workers, teachers, and others can introduce pests to your daycare facility through packages, backpacks, or clothing without even realizing it. Watch out for bed bugs in particular, which can hitch a ride on bags and stuffed animals or blankets brought from home, infesting cots in your daycare where children nap.
Common types of insects and rodents in daycare centers
How to deal with ants in your daycare center
A common pest in daycare centers is ants, coming in to find food, but you probably don't want to use ant traps or repellent sprays where children are present. One way to control ants in your daycare center is to enforce strict cleaning habits in all corners of the facility. Instruct aides and teachers to clean all traces of food, especially sugary items, as soon as possible after each meal, snack, or party. Use soap and water to disinfect any areas where food is eaten or prepared. Spraying a mix of soap and water directly on visible ants will eliminate them, although this won't always solve an infestation issue. An ant infestation in your daycare center may require the help of a commercial pest management team, like Hawx Pest Control. Different species of ants present various issues, so don't hesitate to bring in the professionals.
How to deal with spiders or ladybugs in your daycare center
Most spiders are harmless to humans and are often good for the ecosystem, as they consume undesirable insects. But spiders have a way of startling people, children included. Ladybugs are generally not harmful to humans, but they can be a nuisance if they invade your daycare center in large numbers. They'll come inside seeking warm shelter during the year's first few cold months. If disturbed, a swarm of ladybugs will release a foul-smelling, yellow-red substance that can stain curtains or clothing. If your daycare center is experiencing a ladybug infestation, it's best to have Hawx technicians inspect your facility to determine the extent of it.
How to deal with rodents in your daycare facility
Rodents like mice and rats in your daycare center should be dealt with professionally, as they present a health risk to children and adults. Internally, daycare center directors must ensure they dispose of garbage frequently and deep clean the entire facility regularly to help keep rodents at bay. All food and beverages must be stored tightly in containers so mice or rats can't get into them. It's also important to clear all clutter that attracts rodents to use as nesting sites.
How to safely treat for pests with children playing on floors
Pest control in daycare centers should involve treatments that won't be toxic to humans. Children and teachers often get down on all fours to play games, build with blocks, and use playthings on the floor. If insecticide sprays or powders are used on flooring, children might get the residue through their skin. Kids often put their hands in their mouths, further exposing them to diseases, toxins, and allergens. 
Hawx Pest Control for daycare centers understands that children play on floors and put things in their mouths. We never place baits or treatments where children spend their time or can access toxins. Instead, our technicians protect your environment using other effective methods.
Hawx Pest Control provides safe, affordable treatments to manage pests in daycare centers. Our highly educated professionals service your facility year-round to address issues with cockroaches, rodents, and other invasive pests. We use an integrated pest management approach and state-of-the-art tools to keep pests away.
Call for a free estimate
today for critical pest management services at your daycare center.
Contact Hawx Pest Control Today.