hawx is always reliable. always innovative.
Get $150 Off Scorpion Service
Scorpions are arachnids with segmented tails that curve back over their bodies and have a venomous stinger at the tip. Due to their intimidating pincers and tail stingers, scorpions can cause a lot of fear, discomfort, and concern. Except for the Arizona Bark scorpion, which has highly potent venom, adults would not be severely injured by a scorpion sting in the U.S. If you suspect you have a scorpion problem in your home, read this guide to learn what Hawx Pest Control can do to help.
Get help with your scorpion problems by calling the scorpion control pros at Hawx Pest Control! Dial (888) 372-9514 today.
What is the best pest control method for scorpions?
The best scorpion pest control method combines powerful solutions that tackle the infestation from several angles and removes scorpions from your house. At Hawx, our expert technicians thoroughly inspect your property for scorpion activity and harborages. Our liquid product treats all potential scorpion harborages to eliminate active scorpions and prevent future infestations. The granular product is spread in dense ground cover areas, such as river rock and mulch, to eliminate traveling scorpions.
Next, with your permission, we perform minor habitat modification work that keeps scorpions from entering your home. This means filling voids, holes, cracks, and crevices they use to work their way in. Finally, we recommend changes to the property that can help reduce the potential for more scorpions or harborages down the line.
How does scorpion treatment work?
The key to scorpion removal is making your yard and home uninhabitable for them. At Hawx Pest Control, we use a process of inspection, liquid treatment, granular treatment, and exclusion or habitat modification. This is an add-on to our General Pest Control Service and includes a 7-day follow-up after initial treatment. It is a multi-step process that works to keep your home and property scorpion-free.
How much does professional scorpion treatment cost?
At Hawx Pest Control, scorpion removal and management is a specialty add-on with our General Pest Control services. The total cost of your scorpion control treatment will depend on a few factors which would be determined in the preliminary free estimate visit to your home. Once treatment is planned, you'll receive an estimate for your initial charge. Our General Pest Control services offer recurring monthly subscriptions and can include any add-ons, such as scorpion removal, to keep your yard and home pest-free and peaceful.
Can Hawx Pest Control help me get rid of scorpions?
Yes, we can! Our highly-trained, expert technicians deeply understand scorpion behavior, making Hawx the undisputed leader in scorpion pest control. Scorpions can be intimidating and anxiety-inducing. While there may not be immediate damage to your home from their presence, it disrupts your life and the peace and safety of your family members and pets when they come inside. Our scorpion add-on package is a unique service that allows Hawx customers to reclaim their most important interior spaces. We use an innovative and effective combination of scorpion treatment methods to get rid of your current problem and work to prevent any return. Call us today for a free estimate!
Get $150 Off Scorpion Service
Read more about scorpions
If you're a resident of Raleigh, you've got so much to be grateful for. This gorgeous city is just a hop, skip, and a jump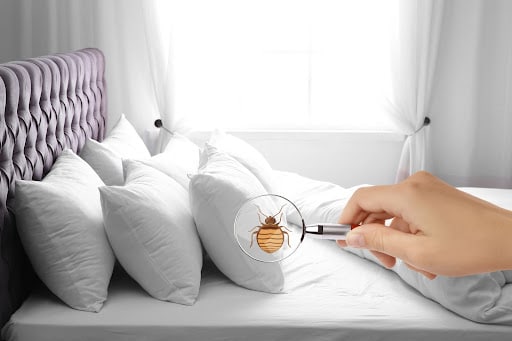 As much as we'd all like to turn a blind eye, bed bugs are, unfortunately, a common problem in Baltimore. These pesky little parasites are
Here in Baton Rouge, it's no secret that owning a home isn't always easy—between mortgage payments, utilities, and routine maintenance, the expenses and chores on