Pest Control for Wood-Destroying Insects:
How Professionals Can Help
hawx is always reliable. always innovative.
Wood-destroying insects can cause severe damage to homes, outbuildings, trees, fencing, and even wooden furniture. However, effective wood-destroying insect treatment can limit the destruction caused by the pests. Read on to learn what wood-destroying pest control involves, so you can make an informed decision when it comes time to call the pros.
To schedule your appointment, call our office at (888) 372-9514. Or look up your local branch to find a Hawx Pest Control close to you.
What is the best pest control method for wood-destroying insects?
Wood-destroying insects is a broad category of pests that includes everything from certain species of beetles to carpenter ants. In many cases, homeowners know they need help because they spot damage like holes in wood, but they may not actually spot the pests that are to blame or be able to identify them. As a result, pest control for wood-boring insects begins with a thorough inspection.
During a wood-destroying insect inspection, licensed pest control technicians walk the interior and exterior perimeter of the home, looking for signs of damage. During the inspection, they identify the type of pest present and locate nesting sites and entry points.
Using information gathered during the inspection, technicians can create a customized wood-eating insect treatment plan that may include sprays, dust, or granules. The products used for pest control for wood must be capable of addressing the specific insect species. 
Technicians will also determine where to apply wood-destroying insect pest control treatment, choosing the locations based on where pest activity is present and where potential entry sites are found. Sometimes, pest control professionals will also point out necessary repairs that homeowners can make to reduce the risk of future pest problems. For example, they might offer advice on moisture control for homes prone to carpenter ants.
How does wood-destroying insect treatment work?
The goal of insect treatment for wood is to eliminate the pests. Usually, technicians accomplish this by applying products that negatively impact the wood-boring insects. For example, a product may interfere with reproduction, so the pests die out or make the area inhospitable, causing them to die. As previously mentioned, treatment must be species-specific to be effective.
How much does professional wood-destroying insect treatment cost?
What you can expect to pay for wood-destroying insect pest control treatments depends on the pest species, the infestation's severity, and other factors like your geographic location. Some providers may assess an additional wood-destroying insect inspection cost on top of the fees for treatment or the inspection may be included in the total price of treatment. In some cases, preventative treatments may be recommended to control pests in the future, and there will typically be additional fees for those.
Can Hawx Pest Control help me get rid of wood-destroying insects?
Yes! Hawx Pest Control uses proven technologies, tools, and products to address wood-destroying insect infestations. Our licensed pest control technicians can inspect your property, assess the problem, and develop an effective wood-destroying insect pest control treatment plan to address it. In addition, you can count on our technicians to answer any questions you have, like "How do you control wood boring insects in sheds?" or "What can I do to protect my antique furniture from pests?" Following treatment, you'll receive a detailed report about the services we performed via the Hawx mobile app. The report includes pictures, so you'll clearly understand what we did to address the infestation.
Read more about wood-destroying insects
If you're a resident of Raleigh, you've got so much to be grateful for. This gorgeous city is just a hop, skip, and a jump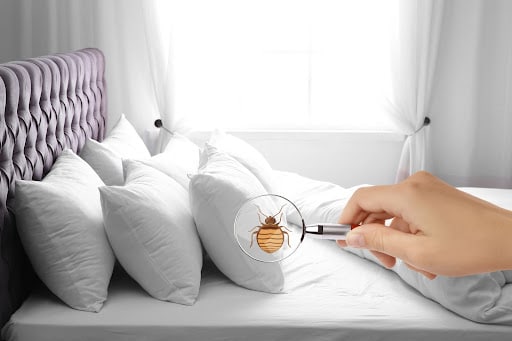 As much as we'd all like to turn a blind eye, bed bugs are, unfortunately, a common problem in Baltimore. These pesky little parasites are
Here in Baton Rouge, it's no secret that owning a home isn't always easy—between mortgage payments, utilities, and routine maintenance, the expenses and chores on