RESIDENTIAL PEST CONTROL SERVICES
home of the free re-service
Your home is supposed to be a place of peace and relaxation. However, there is nothing relaxing about a home that has succumbed to pests. Whether you have an ant invasion that you're struggling to clean up or a problem with a colony of rats or mice, you shouldn't hesitate to seek professional help. At Hawx Pest Control, we offer a full range of pest control solutions designed for homes, and we stand by the work we do as a guarantee of quality. In short, nobody does the job like we can, including offering start-to-finish protection and total peace of mind.
Hawx Pest Control offers services in several states, meaning there's a good chance we have a location near you. Each location is staffed with some of the finest local experts in the industry, ensuring we have the knowledge and tools to handle whatever problem you're having effectively. From rats to roaches and spiders to flies, we have never encountered an issue we can't handle. Our goal is to give you peace of mind that allows you to live your life in total comfort and health.
OUR TREATMENT PLAN CONSISTS OF:
Each property is unique and has its own pest problems. We make sure to inspect your property and tailor your service plan to your specific problems.
The best pest defense starts on the outside of the home where the bugs nest and breed. Each service we will target nesting sites to target the bugs at the source.
establishing a thorough barrier
During each service our professional will establish a thorough barrier around the perimeter of the home to prevent even the smallest pests from coming inside.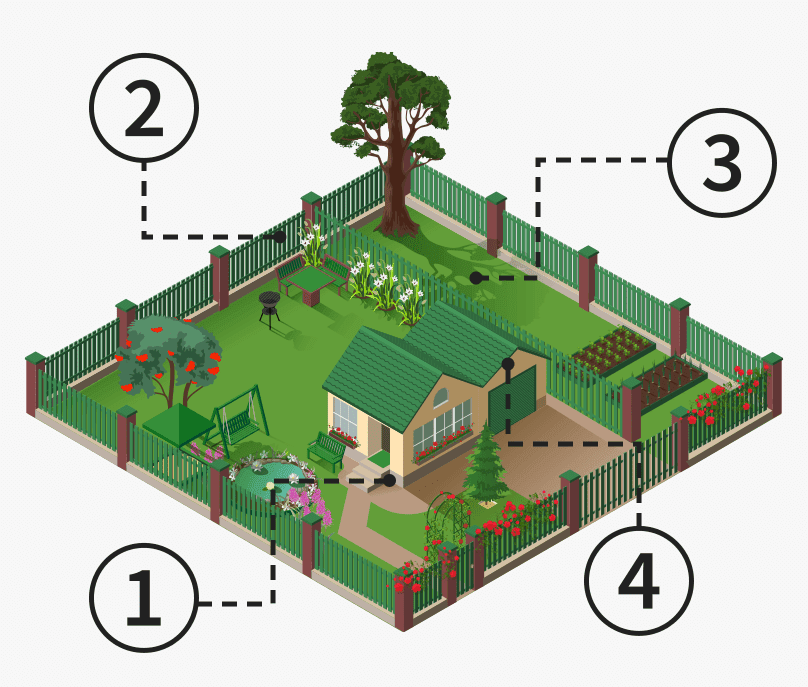 We treat a larger area than the competition creating a stronger, larger barrier of protection.
We treat beyond the structure inspecting for nesting sites and potential issues throughout the yard.
Granules in your yard create a kill-zone before your house and eliminates nesting sites.
We knock down any wasps nests and cobwebs throughout the eaves of the home.
Services for a Healthy Home
Here at Hawx Pest Control, we understand that pest control isn't just a one-time service, but rather is an ongoing challenge that needs repeated and ongoing updates and treatments. Sure, pest control can help you with an urgent issue you are dealing with, but the issue will only come back as pests find their way back into your home if you don't constantly and repeatedly keep up your preventative methods. We customize our services to you and offer a unique, all-encompassing process that treats your home with the care and attention it deserves.
Our process is three-fold: we start with an inspection, move on to treatments, and then perform follow-up with every customer. The Inspection looks for active pest problems, including infestations, areas of entry, and harborage (where pests live). This allows us to customize your treatments to your needs. From there, we implement those treatments, starting with a heavier initial treatment and then returning to re-treat on a more regular basis. We even customize these treatments to the seasons throughout the year, targeting pests that become a problem during different points of the year. Finally, with our follow-up services, we'll return and re-treat your property at no additional charge should any of our methods fail and pests return prematurely after a treatment.
sign up for a home service plan today!
Hawx Pest Control offers two different types of pest control treatments: quarterly services and bi-monthly services.
Four services a year (plus one additional initial service visit in your first year)
General pest control for over 40 different household pests*
Free re-services should pests return between scheduled visits
Six services a year (plus one additional initial service visit in your first year)
General pest control for over 40 different household pests*
Free re-services should pests return between scheduled visit
Are mosquitos driving you out of your backyard? Do you struggle with keeping your property enjoyable due to the threat of itchy bites? We offer mosquito abatement treatments that are customized to help with this problem. These seasonal services include:
Monthly treatments during peak season
Free reservices should mosquitos return between visits
Treatment for mosquitos and mosquito larvae
Satisfaction guarantee
Live your life at home in peace! Contact Hawx Pest Control to get started today.
*Home Service Plans do not cover treatments for German roaches, fire ants, rodents, and insect pollinators. Stinging insects, including wasps and hornets, are included.
very polite and wearing a mask
- Steven
thanks for putting him on my route.
- Sue
he did a great job! thank you very much!
- Rick
the customer service from hawx has always been exceptional.
- Larry
Contact Hawx Pest Control Today.
By clicking "get free estimate," I give my electronic signature and consent that Hawx may contact me with offers at the phone number above, including by text message, automaker or prerecorded message. Consent not required for purchase. Message & data rates may apply. Promotion is subject to local quarterly service pricing, and may not apply to some services.
Contact Hawx Pest Control Today.