hawx is always reliable. always innovative.
Nothing is quite as distressing as heading to bed for the night only to discover bed bugs have made their way into your bedding and mattress. Bed bugs hide during the day, finding places in and around your bed to stay out of sight. 
While you're asleep, bed bugs come out to feed on hosts. Their bites are itchy and uncomfortable. You may see small blood spots on your sheets or mattress that look similar to dots of rust due to these bites. Read this guide to learn how bed bug treatment will bring peace back to your home.
Look up your local branch or call our office at (888) 372-9514 to schedule your appointment.
How does bed bug treatment work?
The treatments used by Hawx Pest Control work to eliminate existing bed bugs and prevent future reinfestations. First, we thoroughly inspect for bed bug activity and remove all visible bed bugs using a vacuum. This process helps us determine the best treatment plan. Then, to eliminate bed bugs, we apply a mix of liquid products to all infested areas, including furniture, curtains, and home structures. Next, we administer a dust product to cracks, crevices, and void areas behind outlets, light fixtures, and any other accessible wall voids.
What is the best pest control method for bed bugs?
The specialists at Hawx Pest Control use the best bed bug treatment options available, constantly updating our available options based on the latest methods, studies, and technologies. Our highly trained technicians use a combination of a powerful vacuum, a specialized liquid product, and in some cases, dust treatments to target different areas and  ensure the best possible results.
How much do professional bed bug treatments cost?
Bed bug treatment for the home is one of our specific pest treatments. The total cost will depend on factors like the size of the home and the severity of the infestation. After determining the level of infestation, we create a personalized treatment plan that thoroughly addresses your bed bug infestation. Our bed bug services include a one-time payment that covers the initial inspection and treatment and a 7-day follow-up service.
Signs you might need professional bed bug pest control
Because bed bugs are tiny, nocturnal, and fast movers, it can be hard to detect them. If you see any of these signs of an infestation, seek professional bed bug pest control.
Blood stains:

After bed bugs finish feeding, they may leave blood on your skin, which can transfer to your sheets. If you land on a bed bug while adjusting, you may crush it while sleeping, which can leave a mark.

Dark spots:

Look around the edges of your mattress, sheets, and upholstered furniture for black, brown, or dark red spots. These spots are created by smeared bed bug excrement and will look similar to pen or marker ink.

Musty smells:

A sweet, musty scent lingering in a room likely means you have a colony of bed bugs living with you. This scent can also smell rusty due to the oxidized iron in digested blood.

Casings:

Bed bugs shed their shells or casings around five times as they molt during growth phases. These translucent exoskeletons are yellowish to light brown and are found in their nesting area.
Can Hawx Pest Control help me get rid of bed bugs?
Yes! The experts at Hawx have a deep understanding of bed bugs, making us the leaders in bed bug control and treatment. 
Bed bugs have evolved to avoid detection to survive. Once you have a few bed bugs in your home, their spread is rapid and expansive, filling any area where they can hide safely and easily access a host. Our interior bed bug package is a unique service that allows Hawx customers to reclaim their most important interior spaces.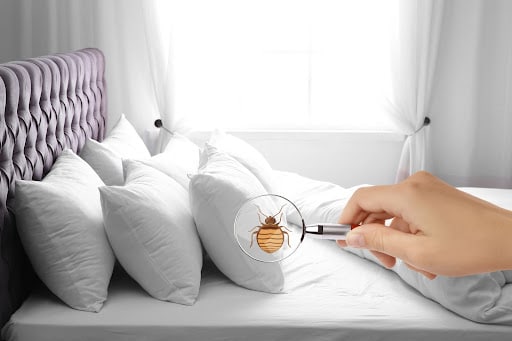 As much as we'd all like to turn a blind eye, bed bugs are, unfortunately, a common problem in Baltimore. These pesky little parasites are
Have you found yourself in a constant battle against pesky household pests?  As homeowners, it's our responsibility to keep our homes free from these unwanted
The Dangers of DIY Bed Bug Treatment Why Professional Help is Essential If you have ever dealt with bed bugs, you know how frustrating and